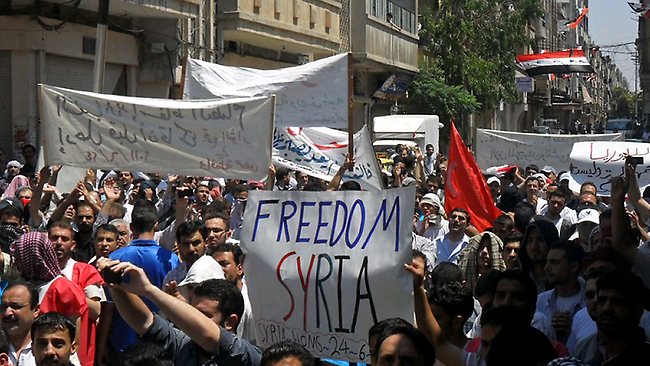 Protests in Syria
In Syria, what began as another chapter of the Arab Spring has deteriorated into a humanitarian catastrophe. Peaceful protests starting on March 15th, 2011 were met by the reigning Assad regime with violence and mass arrests. Popular uprisings soon became a full-scale civil war, resulting in over 100,000 casualties and the displacement of millions. Government air raids on rebel strongholds are frequently indiscriminate and result in numerous civilian deaths and massive damage to infrastructure. Army sieges on entire towns prevent access by humanitarian groups to provide necessary food and medical assistance to needy Syrians, resulting in widespread malnutrition and disease. Jihadist elements with extremist ideologies have capitalized on a lack of foreign intervention by waging successful campaigns against the Syrian army, resulting in both increased favor among rebel groups and the further discouragement of outside support. On August 21, 2013, a chemical attack on the Damascus suburb of Ghouta forced the hand of the international community to disarm the Syrian government's chemical arsenal, but the conflict continues unabated. Warning: The videos presented can be extremely graphic.

Loading Voice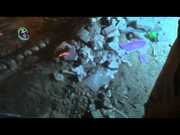 داريا 22-4-2014 قوات النظام تقصف بقنابل تحوي غازات سامة إحدى النقاط على الجبهة الشمالية
23 Apr 11:06

Syria's chemical weapons wild card: chlorine gas| Reuters
22 Apr 11:07
BEIRUT (Reuters) - Chlorine gas attacks in Syria this month, if proven, expose a major loophole in an international deal which promised to remove chemical weapons from Syria and suggest chemical warfare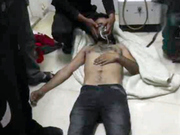 Syria's Assad regime accused of using First World War-type gas against rebels | National Post
22 Apr 10:06
The U.S. is investigating whether the Assad regime used chlorine gas — a toxic chemical employed in the First World War — on areas of Syria controlled by rebel forces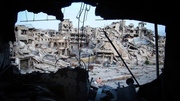 Weakened rebels in last stand for Homs, capital of Syrian revolution, as Assad forces advance | CTV News
22 Apr 09:06
Weakened Syrian rebels are making their last desperate stand in Homs, as forces loyal to President Bashar Assad launch their harshest assault yet to expel them from the central city, once known as the capital of the revolution.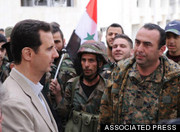 5 Reasons Why Syria's Upcoming Election Is A Cruel Joke
22 Apr 08:18
Despite a brutal conflict that has left more than 150,000 people dead, the speaker of Syria's parliament announced on Monday that the country will hold presidential elections on June 3. While Jihad al-Laham called on his countrymen to "exercise ...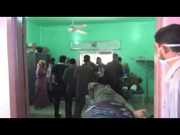 شام ريف ادلب جرجناز حالات تسمم جراء القصف بالغازات السامة 22 4 2014 تحذير الفيديو قاسي جداً
22 Apr 04:06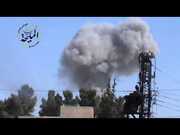 الدخان المتصاعد بعد الغارة الجوية الخامسة على بلدة المليحة لليوم 21 علـى التّوالي 22-04-2014
22 Apr 03:06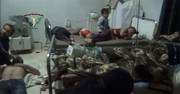 Washington dit avoir des indications évoquant l'utilisation d'armes chimiques en Syrie - L'Orient-Le Jour
22 Apr 02:06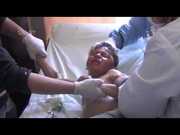 سمارت ادلب تلمنس رصد حالات الاختناق في المشفى الميداني نتيجة سقوط برميل متفجر يحوي غازات سامة 21 4 2
21 Apr 23:05
ألوية وكتائب الشهيد م1 احمد العبدو كمين على طريق حمص الفوسفات واحراق صهاريج الكيروسين 21 4 2014
21 Apr 23:05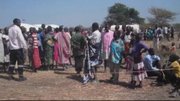 Middle east - US: 'Indications' of new chemical weapons use in Syria - France 24
21 Apr 21:07
<p>The United States is investigating whether or not the Syrian regime was behind a reported chemical weapons attack in Syria this month.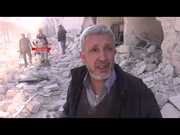 +18 Aleppo Massacre حلب حي بستان الباشا - مجزرة مروعة تبكي الصخر بالبراميل المتفجرة 21-4-2014
21 Apr 21:07

U.S. says has indications toxic chemical used in Syria this month| Reuters
21 Apr 17:06
WASHINGTON (Reuters) - The United States has indications that a toxic chemical, probably chlorine, was used in Syria this month and is examining whether the Syrian government was responsible, the U.S.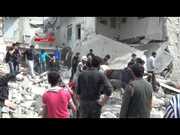 شبكة حلب نيوز::الدفاع المدني يحاول أنقاذ الأهالي من تحت الأنقاض في حي الصاخور 21-4-2014
21 Apr 09:05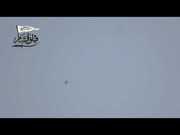 فيلق الشام || رصد برميل من لحظة افلاته من المروحية حتى انفجاره على الارض واضح جدا في مورك
21 Apr 04:05

Syrian refugees: Vulnerable to abuse | The Economist
21 Apr 00:05
THE UN's refugee agency, UNHCR, has registered 2.6m Syrians, the vast majority of whom are women and children. A member of the agency, who wished to remain...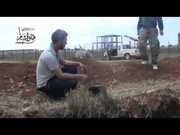 فيلق الشام || حمص ll صواريخ الغراد المرعبة تزلزل كلاب الأسد في حي الزهرة الموالي وتذيقهم مرارة الفطس
20 Apr 21:05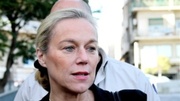 Syria Poised to Meet Deadline for Chemical Weapons Disposal
20 Apr 18:05
Syria has removed or destroyed 80 percent of its declared chemical weapons material. Sigrid Kaag, special coordinator of the joint mission of the United Nations and the Organization for th...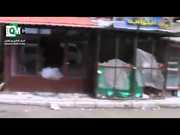 مكان المجزرة التي حدثت في جيرود بعد استهداف مدفعية الأسد السوق الرئيسي فيها 20-4-2014 || +18
20 Apr 16:05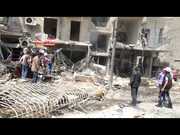 شبكة حلب نيوز:انتشال الأشلاء جراء القصف بالبراميل المتفجره على الموصلات القديمه 20-4-2014
20 Apr 14:05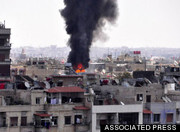 Non-Intervention in Syria Was a Grave Mistake | James Snell
20 Apr 13:05
When the House of Commons voted to reject military action to protect the citizens of Syria from tyranny - both political and religious - MPs plunged this country, and the world, into the terrifying situation that exists in the region today....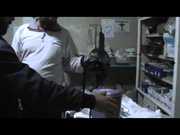 تقريرإعلامي للناشط عثمان الخاني و توثيق كامل للقصف الكيماوي و شهادات الأطباء و الصابين و المراصد
20 Apr 11:06